If Henry Ford's principles can be used at a McDonald's cafe, why can't they be used to recruit staff at the same establishments? IT company IBS built the largest HR factory for mass recruitment in Russia in Penza. More than 600 employees figure out the cheapest ways to search for and select candidates, they call the applicants and pass them on to their clients. During non-working hours and at times of peak load, chatbots and Vera, a speaking robot, are connected for interviews with the candidates. For the Pyaterochka and Perekrestok retail chains, IBS closes up to 17,000 line items every month. Outsourcing company IBS is interested in the maximum cost reductions offered by technology: 'We know how many seconds our operators spend on every process, and we are trying to reduce that to the minimum possible time', says the Director of HR Services at IBS, Dmitry Prokhorenko. How the recruitment chain works and how IT specialists are changing the system of working with personnel in Russia, Prokhorenko explained in an interview with Republic.
You have been working in recruitment for many years. Were you the one who suggested that IBS create an HR outsourcing division?
IBS has been working on HR automation for many years. In the first decade of this century, IBS introduced IT solutions at a large number of companies that were based on the leading global software of the time. And by 2014, when I joined the company, nearly all of our large customers—with a staff of more than 10,000 people—had already automated their basic HR processes. That is to say, a certain ceiling was reached.
But if we asked the HR directors of these 'automated' companies whether they were happy after the system was introduced, they would have answered in the negative. They would have blamed the integrators or themselves, but hardly anyone managed to achieve the true efficiency offered by these processes: some of them didn't use all the system's capabilities, while others were unable to organise their work properly. In addition, numerous other new technologies were appearing in parallel on the market that were not included with these platforms but that could solve other problems more efficiently.
Then someone had the idea of creating a service business: to provide a readymade solution for some of these corporations' HR functions. Instead of automating the process based on the client's instructions, we would say: tell us the result of the process, and we'll organise it, automate it, configure it, hire people and train them, we'll conduct the process ourselves so that it is implemented in the best-possible manner, with the quality needed and at the right price—cheaper than what you're doing it for now.
It's hardly likely that the clients themselves admitted that they were unhappy and that they needed help, right?
No, that wasn't the case. The idea of servicing was formulated by one of the company's shareholders, Sergey Matsotsky. He was always interested in both HR and innovation, and he realised that the market was entering a new era. In mature economies, HR outsourcing is already very well developed: in the United Kingdom, 44 per cent of companies use it. That is, near half of all companies completely or partially outsource their [HR] processes to be run by a third party. In other developed markets, the penetration of HR outsourcing is lower: up to 40 per cent in the United States, according to various estimates, and around 25 per cent in Asia. We understood that there were things that would be applicable in Russia, and others that wouldn't be, but then we really liked the fact that the degree of penetration of outsourcing here was only 2 per cent.
How did you prove to potential customers that your services would be cheaper?
We were lucky. We got started in this on a phased-in basis together with our client, Pyaterochka. Pyaterochka's managers had the courage to admit to themselves that not all the processes in the company were working as well as they could. But if you're a large company and growing fast, you don't have the time to overhaul these processes on the go. But not changing them is also not an option—[growing] at that speed, the chaos will only get worse. In general, the HR processes at any company gradually 'pick up trash': they are adjusted in response to any change in the external or internal environment. The processes become overgrown with a multitude of subprocesses, which at some point are no longer necessary, but no one remembers why they were thought up in the first place, and [no one knows] the proper way to rescind them.
At Pyaterochka, they decided to focus on the things that were giving them a competitive advantage: they had to get hold of territory and open new stores. They handed over to us the processes that supported this.
Not many people calculate just how much it costs a company to fill one vacancy. To make a decision about outsourcing, however, Pyaterochka was forced to calculate this cost. And in the end, we saved them about 30 per cent. When we proved that we could recruit line personnel cheaper and better than Pyaterochka could, they gave us other HR functions as well. In Penza, we set up a separate service centre that provides staff servicing for the retailer: consulting, calculating wages and processing documents.
Why did you build your HR factory in Penza?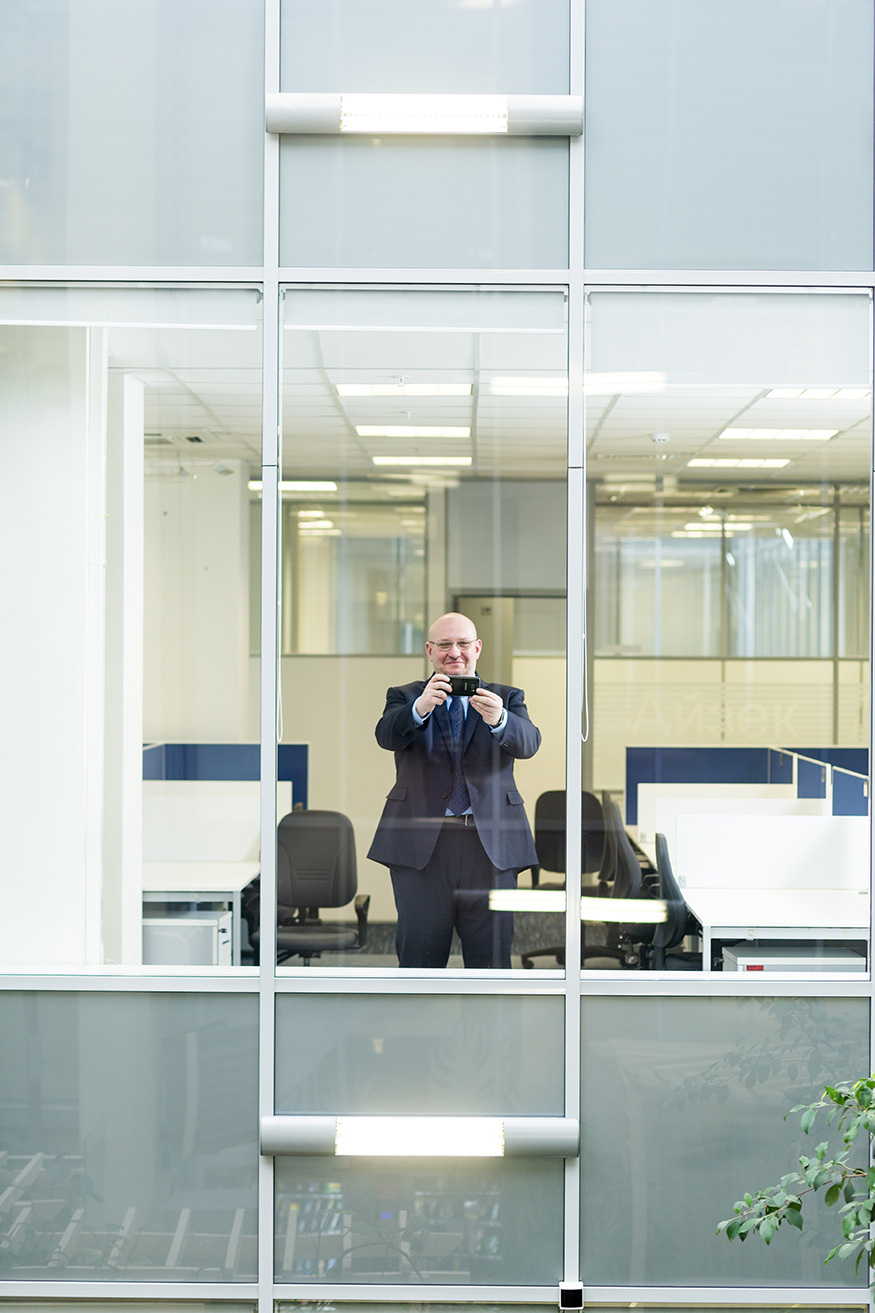 Dmitry Prokhorenko, IBS. Copyright: Press-service IBS
We needed a large city where there were universities and a lot of people who were hungry for a job. At the same time, we were looking for a city that had not been spoiled by other call centres, so that the cost of labour would not start to increase dramatically. Now, for example, there are a lot of call centres in Nizhny Novgorod and Yaroslavl. Moreover, it's difficult to find a building outside Moscow and St Petersburg where people would find it pleasant and comfortable to work. You can find good specialists in Mari El, but you won't have anywhere to put them. In Penza, we found a new technology park that was built specifically to attract high-tech production.
Of the 600 employees at the factory, how many people have experience in HR?
Dozens. This is an expert centre that is responsible for the alignment and automation of processes, for the application of various methodologies. It would be a stretch to call most of the employees recruiters. Their main function is to work in a disciplined manner according to a clearly defined plan. They ask each candidate five questions that have been agreed with the client, enter their responses in the system, and the system tells them what to do with the candidate next. In the end, we select suitable candidates according to the profile; the final interviews are still conducted by the client. Our conversion rate is now 15-17 per cent, that is to say, of the six people that we offer the client, one of them gets a job. The others either decide for themselves not to fight for a position or the client chooses another candidate over them. But what we're paid for is filling vacancies.
And this sort of work is gradually starting to be done by robots?
Yes, but robots aren't going to replace every recruiter, of course. They are going to replace those people who are performing the work of robots. At our centre, some functions have already been roboticised. If the queue at the call centre reaches a critical level and there is a risk of losing a candidate, the XOR chatbot is activated and starts working in place of an operator. If someone calls outside working hours, the chatbot is activated immediately. It finds out the person's name and address, selects suitable workplaces for them and, if necessary, can even schedule an interview. Some of the work is performed by Vera, a speaking robot manufactured by Stafori. She finds suitable CVs herself on job sites, calls up candidates and determines whether they're interested in a vacancy.'
IBS is an IT company, but do you use other companies' products? Why didn't you create a robot named Dima, for example?
You can't keep reinventing the wheel; you have to enjoy the fruits of civilisation. As we see it, our task is not to invent something new, but rather to quickly package technologies that can solve some unique customer problem. Our advantage is that we are IT specialists: we're constantly studying the market, finding new solutions and testing them. HR departments usually don't have money for that kind of work: even in advanced corporations, they prefer to dedicate IT budgets to other areas, like sales, finance, logistics.
But, for example, we weren't able to find a suitable applicant tracing system on the market, so we decided to create our own. We don't sell our ATS as a separate solution; it's a fundamental system for us, and we put everything else on top of it: the robot Vera that I mentioned earlier is also integrated with it.
We could create our own robot, but it would be too expensive. We pay only for proactive candidates that Vera finds, so this is, in essence, payment for results. You don't have to love Vera, or her voice, but she works efficiently.
Isn't it true that not everyone likes it when a robot calls them?
We understand that we will lose some people because they don't want to talk to a robot. But we can call them back, it's not a problem. So far, we haven't studied the question of exactly who doesn't want to interact with a robot and why. So far, there still isn't a critical mass that would require study.
What problems did require study?
Some of the decisions we made in the process of our work were based on statistics. For example, if an applicant doesn't respond to two calls, it makes no sense to call a third time: it is highly unlikely that such a candidate will get a job even if they make it through every stage.
The fact is we're not doing anything extraordinary. We haven't come up with anything beyond the ideas of Adam Smith and Henry Ford; we use the same principles. We're building a large-scale, factory-like process. We have a conveyor: we need a hundred parts to come out at the end, and the less time it takes, the better. Therefore, we break down operations, look for inefficiencies within the processes and eliminate them. We know the peak loads for one operation or another; we already have enough historical data, so we're better able to plan shifts. During the payroll period, for example, the number of calls to call centres by employees increases sharply, and we redeploy people to that front in advance.
Do you use chatbots in corporate communications? After all, couldn't they work not only with jobseekers, but also with existing employees, responding to generic requests?
Yes, in a number of cases, a chatbot can replace a call centre operator; it can be taught to answer numerous standard questions. So far, however, we haven't done this. There are plenty of self-service facilities and call centres that employees can contact.
And, well, they just really like to interact with our operators. When the cashier from Pyaterochka calls our service centre, they get the same sort of service that I get at the bank, where I am a VIP client. Nobody puts them on hold, their time is respected, they talk to them in an ordinary manner, they're not rude if some incorrectly formulates a question, for example. We see our mission as not only reducing the cost of HR functions, but also as changing the quality of contact with HR departments. Let's be frank: communication with the human resources department at a Russian company doesn't usually leave people with a good feeling.
You're ready to take on a large part of the HR work for a client, but won't the company then lose its HR expertise and become completely dependent on you?
There's no risk of losing expertise. Our greatest success is that we have learned to work with clients in a very narrow, hybrid model, where we develop services together as a single team. We work in the same system: the client sees our solutions and learns along with us. Thus, our analytical system allows us to measure the efficiency of recruitment channels: we see how much it costs for a candidate who comes to the company through a newspaper ad, and how much it costs for an applicant who walks into [one of the retailer's] shops on their own two feet. Our client sees everything—all conversions, labour costs, [other costs]—in the system and is constantly using it. In addition, we can agree in the contract on the complete transfer of our expertise to the client over a certain period.
The main value for the client in outsourcing is that people on their team start performing work on a different level. Often, some sort of breakthrough in personnel policy is required of HR departments: hiring stars, changing the corporate culture or dramatically improving labour productivity. At the same time, however, 70 per cent of their time is spent on routine processes that are the same everywhere. When we take on this work for a client and we do it for less than the company is able to, it can invest these freed-up funds in the sort of HR that will give it a competitive advantage, in high-quality leadership, in education.
Author: Ksenia Shamakina